Had the year with high and lows ? Go for the new financial year with special offers from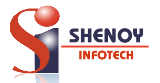 Convert your static website to dynamic and avail discount equal to the money spent* on static site.
Convert your non-responsive website to responsive* for special price.
Get a new dynamic and responsive website and get SEO free* for 1st quarter for 3 keywords.
Google analytics set-up and monthly analysis report for offers 1 & 3.
Hurry the offer is valid only for projects completed and hosted on or before 31st March 2016.
All contents received on or before 30th March 2016 will be considered as final content.
*Conditions apply.
Call: 9900203672 OR 9844703672
» You may also drop us a mail at sales@shenoyinfotech.in
You may also send a mail to webninja@shenoyinfotech.com to get a complete health check of your website.